After testing the white version Asus 1018P last week (which turned out to be identical to the 1018PB available in the States), I now have the chance to get the upgraded version as well, this time with the Black Aluminum finish.
So, I've put together this post comparing the two, with pictures and video. The white device is the Asus 1018PB, while the black one is the Asus 1018P.
Besides those, there aren't many differences between the two, as you'll find out from the pictures and the clips included in this post, bellow.
First, take a look at the video. Then, if curious, see the rest of the post below.
So, as I've said, there aren't many differences between the 1018P and 1018PB. Check them out bellow:
Asus 1018P comes with 2xUSB 3.0 and 1xUSB 2.0 slots, while the 1018PB only has 3xUSB 2.0 slots
Asus 1018P comes with a fingerprint reader, while the other doesn't (it's nice that there's also a software that will help you secure all kind of content, from pictures to documents. Plus, you can login on certain sites and applications from this device with your fingerprint)
Asus 1018P comes with a better keyboard layout, with smaller Enter but big Left Shift (In fact, the 1018P I have comes with the US keyboard layout, while the white 1018PB comes with the European layout)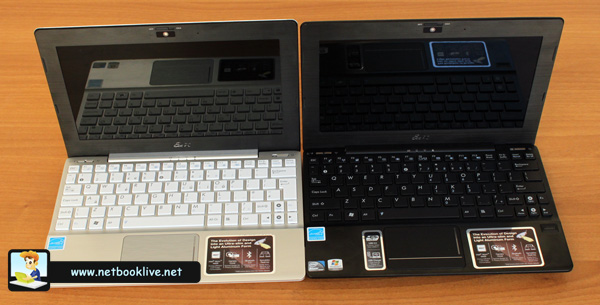 The PB is all encased in texture plastic, while the P comes with an aluminum lid cover. Still, it feels less solid (it bends when pressed even gently), provides worse grip and catches smudges and fingerprints, like all aluminum black covers do
PB is 80 bucks cheaper than the P, as it will run for $350 in the States, while the better equipped version will run for $430 (prices are subject to change in time though)
All in all, the Black finish looks more classy and sober (a true business netbook, as Asus likes to call this machine). Still, I do prefer the white one, although I didn't when I first lied my eyes on it. Still, that textured plastic is indeed pretty solid and gives a certain toughness to this little fellow. See some of the pictures below for details.
In fact, I'm pretty sure the 1018PB will also come in Black, but I don't know whether it will have the aluminum finish as well. Hopefully not.
For more details about this EEE PC line, see the Asus 1018P review i had a couple of days ago. Like I said in the clip as well, I would right now buy the cheaper version. It's not like I don't like or appreciate the features on the upper class one, but I just don't feel that I need them. So why pay 15% extra for something I won't use?
Update:
Not sure if that's the case for all devices, but on these two I have, there are a couple of other differences:
N475 1.83 GHz processor for the Black 1018P and N455 1.66 GHz processor for the white 1018PB
2 GB of memory for the P, only 1 for the PB
320 GB HDD for P, only 250 GB for PB
Windows 7 Home Premium for P, Windows 7 Starter for PB
Given these latest findings, if indeed the 1018P will have all these extras above over the PB, than I definitely have to take back what I said in the clip and above and would buy this one. The better processor, extra memory and improved OS is for sure something I would pay for, and taken all together, they all count for a lot more than $80.
But let's just wait and see the 1018P/PB in stores and then I'll be able to draw a final conclusion.
Disclaimer:
Our content is reader-supported. If you buy through the links on our site, we may earn an affiliate commission.
Learn more.