The Asus EEE PC 1016P is another one of the new 10 inch mini laptops Asus planned for this year, alongside the fancy 1018P and mainstream 1015pe/ped versions. In fact, this is the top model of the three, a true business netbook, boosting the best Asus can offer in terms of build quality and design.
This post here is not actually an Asus 1016P EEE PC review, as I didn't quite had the chance to play with it myself, it is a post trying to gather together all the info available about the 1016P, in order to make it easier for you to understand why is it so hyped and also so expensive (cause yes, the Asus 1016P is expensive for a 10 inch netbook).
First, let's take a quick look at this notebook. You'll notice the simple and yet fancy aspect. Unlike the other new Asus machines, this one seems more robust and sober. While the others have lots of round edges, on 1016P they are sharper, just like on other business mini laptops, like the HP 5103 or the old ThinkPads.
Exterior is completely covered in black anodized aluminum, which is not only used for the lid cover, but also for palm rest and areas around keyboard and display. So a solid finish, great when dealing with scratches and dust, but probably not as good against smudges and fingerprints, as we know those are quite visible on black aluminum finishings. The 10 inch 1024 x 600 px screen is also matte, so will be usable in direct light conditions.
This Asus 1016P also brings a new trackpad, redesigned. I like that it's now completely differentiated from the palm rest but I can't tell you anything about how it actually feels. It is probably quite good, as it looks smooth and matte as well. Also, not sure what to say about those click buttons, which are actually part of the trackpad themselves (its lower part), as you can see in the pictures here on this post. It's cool that Asus developed a Palm Proof technology so trackpad detects when accidentally touching it with your palm and ignores those commands (useful when typing).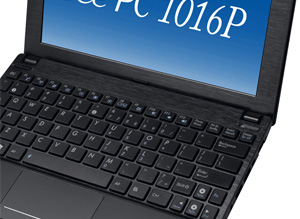 In terms of hardware, inside this Asus 1016P you will get Atom N455 processor clocked at 1.66 GHz, 2 GB of DDR3 memory, 320 GB hard-drive and a 6 Cell 48 Wh battery. You also get Bluetooth 3.0, Wi-Fi N and Windows 7 Professional OS. So pretty good for a 10 incher, although I would have loved the faster N475 processor on this one, plus the bigger battery, features available on the Asus EEE PC 1015PED.
All these come with a price, and I've told you before the 1016P will be expensive, with a list price of 500 bucks. Amazon offers it with a slight discount, for 475 bucks with Shipping included. More details available via this link.
That still makes it cheaper than its main competitor, the HP Mini 5103, but also a lot more expensive than the Asus 1015PED. And I'm pretty sure many of you will wonder if those extra 120 bucks are really worth it. Well, let's see.
The 1016P comes with a more solid body and i would say better looks. The 1015PED uses the soft rubberized finish and is available in 4 colors. They are both matte, but that finish on the 1016P looks more reliable. In terms of features, it's great that you get 2 GB of memory and Windows 7 Professional on the 1016P, while the cheaper Asus only comes with 1 GB and Windows 7 Starter. Those alone are worth around 100 bucks taken alone. Still, the 1015PED offers the better processor and the bigger battery life, which is a decisive aspect for me.
Now, I can't say which one is better of the two, they both have their pros and cons. Still, the 1015PED is the one I would recommend for most users and the one I would probably get. But, if you want the fancy aluminum and the classy business like looks, the 1016P is definitely not a bad pick. Not to mention that you get extra memory and better OS by default.
Of course, I'm curious to see what you guys think about the Asus 1016P? Is it worth the higher price tag? Would you buy one? Please don't hesitate a leave a reply if you have any questions or just something to add.